Franz Marheineke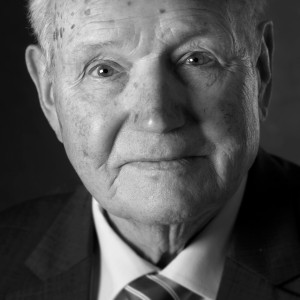 Franz Marheineke (1928) was born and raised in Weener. He attended the Catholic school, which many Jewish children visited, too. As a painter, his father came and went in the houses of many Jewish residents; sometimes he earned some money when he turned the light on for a Jewish neighbor during the Sabbath. He can still remember the day on which the synagogue burned, and he could not go to school. Thereafter, the jewish children never came back to school. Beginning in 1942, trains in which he was able to see people stopped at the station in Weener. Franz had to cross the railroad tracks to the sports field on the way from school. If the trains slowly drove by and finally stopped, he was often at the railway gates and watched. He saw how SS'er with machine guns guarded the train, while the doors of the cattle cars were opened and someone was allowed to fetch water with a bucket.
Opening speech (→PDF) at the traveling exhibition "On the way of Anne Frank – Contemporary witnesses along the tracks" (→Exhibitions) in Leer and Weener by Franz Marheineke.

Speech (→PDF, German) at the official → unveiling of the steles in Weener by Franz Marheineke.